Movie Outline: What's New in Version 3

NEW IN VERSION 3.1

Click here to download the Product Information brochure for Version 3.1 or view the Press Release.

Registered Version 1 & 2 Customers upgrade for only $80 (List Price: $199.95)

Improved Import / Export

Final Draft® 8 (.fdx)
PDF
RTF
Scheduling (.sex)
Scene Numbering
Have scripts written on Final Draft? Or maybe you work with a writing partner who hasn't yet realized the power of Movie Outline. Version 3.1 can now directly import and export your script to and from Final Draft. What's more, you can also import PDF, rich text and plain text files with layout and Movie Outline will automatically reformat them. 3.1 can also display scene numbers that automatically update as you type, and print and export scene numbers to scheduling programs for production.

These new document sharing features make working with writing partners and production managers across platforms and programs a breeze and the unique ability to open PDF files in their native format will be beneficial for those writers wishing to import and analyse the many shooting scripts now freely available on the web.

Full Script Mode / Scene Cards


| | |
| --- | --- |
| | You asked and we listened. By far the biggest request from our users was for us to include the ability to edit a script in its entirety and view the total page count while retaining your step structure. 3.1 provides this feature by letting you select which mode you want to use (Full Script Mode or Step Mode) via the Options menu, status bar or by double-clicking on the outline list while on Script or Step Card views. |

If you double-click on a step title in your outline list, Movie Outline will display your full script and a list of scenes in the right-hand pane. This also applies to Step Cards which can now be flipped between steps or scenes. The status bar and purple "theme" indicates which mode you are in and by clicking on the status bar you can also customize display options. When working in Full Script mode the console navigates and arranges scenes instead of steps and is directly linked to your script.

Content Icons / Speech Count


| | |
| --- | --- |
| | The outline list now displays a small icon indicating that a particular step has outline content. This is helpful when navigating a project to immediately know where you have outline, script and notes and where you don't! Another major addition to the content icons view is "Speech Count" which will now display a small "speech bubble" icon beside the character icon on the Character tab allowing you to instantly see where characters appear in your script and how much dialogue they have. |

Simply click on a character name in your character list and see where their speeches appear throughout your story. You can now also sort your character list alphabetically or by speech count, and you can add characters from your script to your project via the Tools menu.

Auto-Convert / Auto-Capitalization


| | |
| --- | --- |
| | Another popular request was for Movie Outline to automatically convert elements as you type. So now if you enter a scene introduction or transition (as defined in your auto-complete list) the text will change to the correct element, saving you even more time while typing so you can focus on what really matters - the story. Auto-convert and auto-complete has been optimized to handle custom scene heading separators for international users and now also auto-capitalizes the first letter of sentences. |
Register Script / Submit Script
Version 3.1 now includes direct links on the File menu to Hollywood Script Express, our Script Printing & Shipping Service which you can join for FREE!

HSX lets you upload your work from wherever you are in the world and register its intellectual property by providing a digital timestamp to your file which is then encrypted and securely stored on our servers.

You can also use HSX's unique professional script copying and shipping service to submit your script to agents, managers, producers and contests.. or even yourself! With HSX's powerful and intuitive interface you can track submissions, log responses, manage feedback and contacts and even get your script in the right hands by same-day courier in Los Angeles from any international location.

Improved International Language Support

Version 3.1 now supports the correct encoding for import and export to plain text, rich text, html and PDF.


| | |
| --- | --- |
| | Like most applications, PDF export still requires specific fonts to be installed for text to be displayed correctly. Movie Outline on the Mac now also displays international text correctly if your preferred language is set in OS X System Preferences and you are using the right font.. such as one ending with "CY" for Cyrillic (Russian) or "CE" for Central European languages (i.e. Polish and Hungarian). You can also select a specific encoding for export via Preferences. |
Over 100 new features, fixes and enhancements including:
NEW: Ignore UK spelling variations option
NEW: Open last project on start-up
NEW: Sample short film project "Once Bitten"
NEW: Save prompt on close of Character Profile Wizard
NEW: Preferences and menu options for Scene Numbering
IMPROVED: Handling of cut, copy, paste, drag & drop to retain element formatting
IMPROVED: PDF export font handling, text spacing and style
IMPROVED: 100% Windows 7 and Snow Leopard Compatible
FIXED: Printing page range
FIXED: Pagination and text wrapping issues across page breaks
FIXED: Re-scrolling issues as you press enter in middle of regular text fields
FIXED: Scrollbar and click on scrollbar track now correctly navigates pages
FIXED: Project folder not created in "Documents" if you've set custom locations
FIXED: Ctrl+backspace or delete now deletes previous/next word or paragraph
NEW IN VERSION 3.0

With Version 3.0 we have incorporated all the tools a writer needs to create a screenplay from story to final shooting script, making Movie Outline a powerful one-stop shop for all screenwriters - novice and pro!
Screenplay Formatting & Auto-Complete
Character Development & Tracking Tools
FeelFactor Story Analysis Graphs
Visual Drag & Drop Index Cards
Drag & Drop Steps/Tasks in your Outline/Tasks List
Customizable Color-Coded PowerView Structure Templates
Sample Structure Templates including the Hero's Journey
Dialogue Spotlight to view a character's isolated dialogue
Notes & Script Sections for each step
Powerful Import, Print & Export Facility
Ability to export your own projects into your Reference Library
12 Updated Reference Outlines & Analyses with FeelFactor graphs
Speedier, more intelligent Spell-Checker with live spell-checking
Powerful Thesaurus with synonyms, antonyms, definitions and examples
Ability to Merge Steps & Copy/Paste Story Tasks
Insert Special Characters Feature
Title Page creation
Auto-Backup facility
Integrated Check For Updates
Deactivation Feature to transfer activations to another computer
Improved Step & Task Highlight Feature
Draggable Window Divider to customize your workspace
SmartHelp to view context sensitive help with your mouse
Tip of the Day now has even with more screenwriting advice
100% Cross-Platform
Plus a fresher user-interface with many enhancements!
Registered Version 1 & 2 Customers click here to upgrade for only $80! (List Price: $199.95)

Movie Outline 3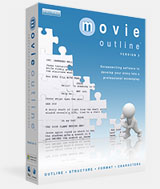 Products

100% Cross-Platform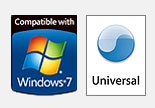 Ezine
Sign up for our free monthly ezine featuring articles and practical screenwriting tips.

Services


Testimonials

Powerful Features