Reference Plugins For Script Studio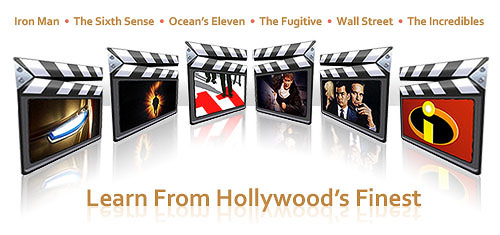 Study Film: Breakdowns of Hollywood Movies
Different genres of movies require different amounts of steps. Dramas are typically around 35-40 steps because they usually have longer scenes than Thrillers, Comedies and Action and Adventure movies which are normally around 45 steps with more action and less dialogue.
To help plan your project,
Script Studio
allows you to simultaneously refer to produced feature film outlines and gauge the progress of your own story in contrast to some of the most successful Hollywood movies. So if you get stuck on step 15 and wonder if your structure is working, simply select your movie Reference Outline and see what happens at the same time in this example.
For instance, has your antagonist entered the story too late? Or perhaps your Hero has still not had his call to adventure? By comparing your own character arcs, escalating conflicts, plot points and three act structure with the pros, you will be able to amend mistakes in your own pacing and produce a well-structured screen story!
Movie Breakdowns -- Included For Free In Your Reference Library
Dead Poets Society
Die Hard
Ghost
Good Will Hunting
Pretty Woman
Scream
Seven
Spider-Man
The Terminator
There's Something About Mary
True Romance
When Harry Met Sally
Each plugin contains a brief synopsis and in-depth analysis of each step as well a s a color-coded PowerView Structure of the narrative and a FeelFactor graph for the entire outline so you can view the thematic roadmap, building blocks and emotional and visceral engagement level of each film.
Building Your Library: New Releases
You can now purchase plugins from within Script Studio(see new titles now available below) and automatically download and install them into your Reference Library. You can also export your own projects to your Library in our proprietary plugin format (.svr file) and view them simultaneously to your current project to compare versions.
Iron Man
The Sixth Sense
Ocean's Eleven
The Fugitive
Wall Street
The Incredibles
Building Our Catalog
We are constantly building our catalog of Reference Plugins and welcome your feedback. If you wish to suggest or request new plugins then please
contact
us and tell us why you think this particular movie would be good for screenwriters to reference so we can make an informed decision as to whether or not to include it in a future plugin release.
*Please Note: Plugins are scene-by-scene outlines & analyses of movies but do not contain the original screenplays.